August 1st, 2011

Posted by:

Goddess Vittoria




Category:

Updates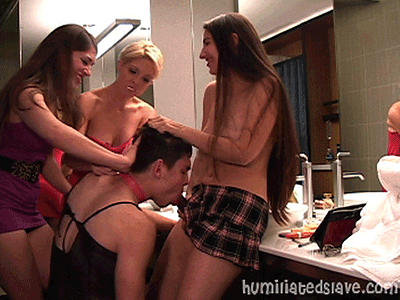 Goddess Vittoria, Miss Vega, and Princess Madison decide it's time for their sissy slave to suck a cock in the lipstick they just applied. They shove a big black cock in his sissy mouth.
The girls decide their sissy needs a name so they pick a name for their bitch.
Goddess Vittoria tells her sissy slave she leaked her pussy juice in her panties so she takes them off and makes him sniff them before she instructs him to step into her wet panties. Miss Vega spanks her sissies bubble butt and tells him to say that he feels sexy in his sissy panties.
The Mistresses make sissy slave apply lipstick while they spank his sissy ass and make him apply more makeup.
Now it's time for more cock sucking. Goddess Vittoria stuffs her sissy slave's face with the big black cock and then puts the dick under her skirt so the sissy slave can suck it. Miss Vega shoves the slave's head down onto the big black dick and commands him to suck it with his lipstick lips.
The Mistresses make sissy tell them how much she loves dick. Goddess Vittoria decides her sissy slave needs to be branded with lipstick so she writes sissy across her chest and draws lipstick around his mouth because that is her sissy pussy hole.
The Mistresses leave for the club so they can rent their sissy out for blowjobs.
Tags: high heels, instructed bi, lingerie, Madison, makeup, panties, sissy, stockings, Vega, Vittoria |
Leave a Reply
You must be logged in to post a comment.